History of Decatur Alumnae Chapter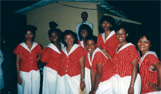 The Decatur Alumnae Chapter of Delta Sigma Theta Sorority, Incorporated was chartered on October 5, 1973, at the home of Soror Bobbie Sanford, by sixteen women who had the foresight and vision to establish a Delta Chapter in the DeKalb County area. Decatur Alumnae Chapter's mission is to continue to expand the sorority's commitment of providing public service to our local community, addressing national issues, and supplying assistance towards international crises.

Decatur Alumnae has experienced over forty rewarding years of administering public service projects and programs that promote human welfare. Decatur Alumnae continues to support our National initiatives with program implementation in our local communities.
We continue to support service and civic organizations that are committed to promoting human welfare and educating the youth. Some of these organizations include the United Negro College Fund, Habitat for Humanity, NAACP, and the National Council of Negro Women.

We are proud of our history and have grown in numbers. We currently have over 200 sorors in the Decatur Alumnae Chapter. As we forge ahead, Decatur Alumnae will continue to be dedicated in our commitment of providing substantial services in promoting human welfare.
Charter Members
Jacquelwyn Willis Anthony
Yvonne McNeil
June Williams Crawford
Kate Richardson Moret
Delores Aldridge Essuon
Dorothy Ann Lett Ogletree
Carolyn Jernigan-Glenn
Bobbie Sanford
JoAnn Harris *
Mattie B. Smith
Iverria E. Henderson
Roslyn Smith
Dianne HillDolores Strawbridge
Ernestine Linder Betty Wilson *
Past Presidents
Yvonne McNeil 1973- 1975
Carolyn Jernigan- Glenn 1975-1977
Dolores Strawbridge 1977-1979
Michelle Stewart 1979- 1980
Glenell S. Smoot 1980-1981
Mary H. Glenn 1981-1983 *
Mary Smarr 1983- 1987
Jacquelwyn Willis Anthony 1987- 1989
Deborah Covin Wilson 1989-1991
Claudean Freeman 1991-1993
Ozie "Jackie" Adams 1993-1997
Betty A. Mitchell 1997- 2001
Arma Boyd 2001-2005
Renee Shackelford 2005-2009 *
Francine Gadson 2009 - 2013
Alanna Hicks-King 2013 - 2017
Adrienne Wright Jackson 2017 - present

* represents deceased.